Enterprise App Development Companies – A Complete Guide to Enterprise Mobile App Development
There is no denying that 80% of the world's population uses smartphones. It is not surprising because Enterprise Mobile Apps can do almost everything – educate us, entertain us, guide us, and so much more. However, that is only as far as personal use goes. From a business perspective, mobile apps can add value to your company and contribute to its growth. They can help automate the workflow, enhance staff efficiency, and save money. Thus, it is crucial to invest in enterprise app development companies. Before you do that, it is important to have a basic concept of the types of enterprise apps and the cost needed for their development. It will help you understand how enterprise app development companies work. Here is what you ought to know about the process.
The Types of Enterprise Apps
There are different types of enterprise mobile apps based on the enterprise and individual needs. If you want to classify them, the best option is to consider the different levels within an organization that can use an app to streamline their daily work.
Employee Level: On the employee level, you shall get enterprise applications designed to help employees execute specific tasks or solve specific problems. These include applications specializing in Business Intelligence and Analytics to help managers and data analysts follow the important KPIs and keep track of the success of their initiatives.
Department Level: Department-level enterprise apps are designed for employees in a particular department. The department-level enterprise apps have a broader scope because they aim to ensure that the whole team works efficiently. For instance, a department-level enterprise mobile app can allow HR specialists to keep track of the onboarding and recruitment process, customer service agents can communicate with customers through text or voice applications, and accountants can track finances and finance-related matters. All this is possible with department-level enterprise apps. Of course, there are many more examples. According to enterprise app development companies, department-level apps depend on the organization's structure and the industry in which they operate.
Company-Level App: The company-level apps are used by the entire organization. These enterprise apps help create a collaborative work atmosphere within an organization and enable better communication. It also helps the workers to participate in internal training or boost productivity through activities planning and tracking.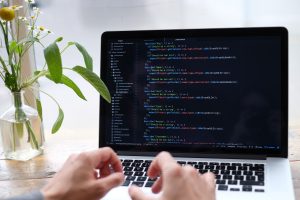 How Much Does It Cost to Build an Enterprise Mobile App?
As one of the most renowned enterprise app development companies, till all the app functionalities, the type of development service, and the required team members are identified, it is not possible to share the exact price for the enterprise mobile app development service. However, it is possible to share a generic idea of what the development cost would be. The range of an enterprise mobile app development cost would vary between $1,00,000 for a simplistic app and $5,00,000 for a feature-rich app.
The feature-rich apps are more expensive. But that is not the only factor to consider during the budget planning of enterprise mobile app development. Another crucial element of the price is the location of the development team. However, you must be aware that a great price doesn't always mean high quality. If you plan to hire an organization for enterprise app development, make sure they have an excellent reputation.
How is Enterprise Mobile App Development Different from Consumer Mobile Applications?
Enterprise mobile app development is the process of building and deploying mobile applications to help enterprise organizations engage with a wide array of stakeholders. These include employees, customers, and partners. As mentioned earlier, enterprise apps are different from consumer mobile applications. According to the enterprise mobile app development companies, the development process is also different.
Firstly, like other corporate systems, enterprise mobile apps are concerned with databases and data transfers. Any error, like the application downtime, security breach, or data loss, will cost the company a loss. Therefore, enterprise mobile apps should be secure and consistent throughout all devices and platforms.
Secondly, enterprise mobile apps should fit into the existing technical infrastructure of the organization, and they must comply with the legal requirements as well. Those requirements also include privacy (data access, sharing, storage, and use). The legal rights to the app, the required permissions (the location, access to the camera or speaker).
In Conclusion
Even though enterprise mobile app development is challenging, you can rest assured that it will be worth investing in a dedicated enterprise mobile app development company. If your business doesn't have an enterprise mobile app, you should have one. These apps are an essential step towards the digital transformation that can streamline the workflow, save your resources, and reduce operational expenses.