Logo Design Companies in the USA: Top Ways to Make Use of Negative Space In Logo Design
If you're starting as an entrepreneur or a new business owner, you may need to learn more about logo design. When creating a new logo design from scratch, you must consider how you'll represent the brand, product, or individual's character. Before planning your first logo design, take some time to learn a few tips and tricks for creating a memorable and attractive logo. One crucial trick to consider is to use negative space in your logo design. Professional logo design companies in the USA can easily guide you through the process.
What is negative space?
Creative Bloq states it's "the space surrounding an object in an image." So it's the space without content between the words and the area around different symbols in your logo.
An example of this is the 1986 NBC logo. This iconic logo cleverly displayed the feathers of a peacock in bold color but used negative space to depict the bird's body. Read on to learn five steps to use negative space in your logo.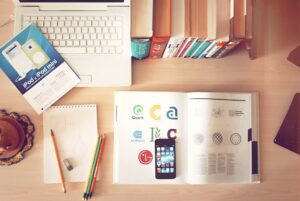 Five steps on how to use negative space in your logo
#1. Play a mind game
Negative space is frequently used to play tricks on the viewer's mind. For example, many works of art depend on negative space to communicate another hidden layer of meaning or fool the viewer about what he sees in the initial seconds.
One great example of negative space usage is in the Guild of Food Writers logo. This logo features the organization's name in a simple Sans-serif, black font. Above the name, there is the nib of a beautiful ink pen. However, the negative space between the two prongs of this pen nib is shaped like a spoon. The image is simple, yet it communicates both the concept of high-quality writing and food.
#2. Design a symbol by combining letters
If you're interested in using negative space in your logo, try pushing letters or symbols closer to your logo and see what happens. For example, have you ever noticed the hidden arrow within the FedEx logo?
The space between the letters "E" and the "X" forms a neat white arrow that illustrates the company's forward motion.
#3. Make a cut-out 
Is there a symbol that you use for your business already? Place that symbol in a solid color on a white background and look at it. Is there a part you could cut out to reveal a second shape reflecting your business goals and mission?
#4. Put words in the image
You can make an iconic image bigger using negative space and putting text inside it. The restaurant, Boom! Burgers feature the black shape of a cow, with the word "Boom" on its hide in negative white space.
The exclamation point is again crafted cleverly with the cow's tail. Since cows are often depicted in black and white, the image visually appeals to viewers and has a significant impact.
#5. Use the product image 
Do you specialize in one particular product? Then, you could find a way to include it in your logo through negative space subtly. For example, the Alchimiste Microbrasserie in Joliette, Quebec, uses "A" as part of their logo; instead of sticking with a plain capital letter, they converted the negative space inside the "A" into the shape of a beer bottle. There may be a way for you to do something similar with your logo.
Each detail of your logo—colors, fonts, sizes, shapes, and more—can affect the impression it makes on customers. So let us at Digital SFTWare help you create a logo design that will make your brand stand out!